Miwazow
Percussionist ? Singer ? Koto player ? Who's she ?
Miwazow Kogure : Japanese "Chin-Dong" drummer, vocalist and Japanese KOTO player in Tokyo, Japan
Referred to as the "Ching-Dong Diva," she has played Japanese percussion "Ching-Dong" and has sung with her radical folk-rock band, "Jinta-la-mvta", blending jazz, rock, Klezmer and Balkan folk music, etc.
<CONTACT> CICALA-MVTA office
cicala-mvta★mbj.nifty.com (change ★ to @, please)
Ching-Dong drummer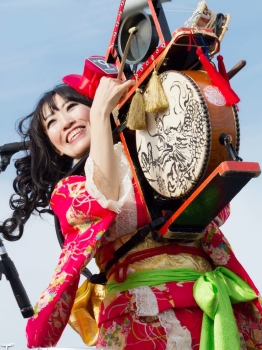 Ching-Dong is Japanese percussion and the old fashioned modern street music
which combined old traditional street music with western brass band.
Miwazow plays a variety of music by Ching-Dong drums,
Rock, Klezmer, Balkan, Prog-rock, Funk, Punk, etc..
mainly in the bands, "CICALA-MVTA" and "JINTA-LA-MVTA".
about Ching-Dong in Wikipedia (in English)
videos (click the photos)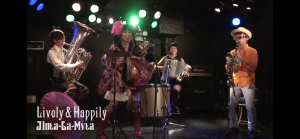 "Lively & Happily / Lebedik un Freylekh" Jinta-la-Mvta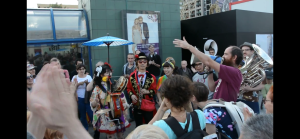 Chig-Dong marching in Warszawa
SPACER Z ZESPOŁEM JINTA-LA-MVTA (XV Festiwal Warszawa Singera, 31.08.2018)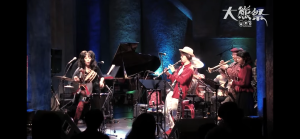 "El derecho de vivir en paz" Jinta-la-Mvta special band at Wataru Okuma festival
Singer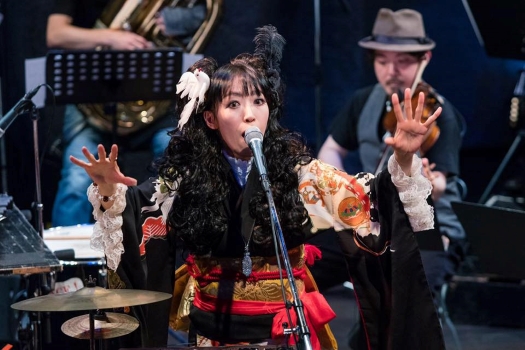 Singer:
Miwazow started singing after Great East Japan earthquake in 2011
to encourage all the people in the world and make this world peaceful.
She sings mainly Brecht's songs, Kurt Weill, Yiddish songs (the one and only Japanese Yiddish singer), various
protest songs etc. in multipul languages.
Miwazow has sung all the songs of "Die Dreigroschenoper
(The Threepenny Opera)" in Japanese playing a quituple role,
Macheath, Polly, Jenny, Peachum and Frau Peachum.
"A most wonderful performance of Die Dreigroschen Oper from Miwa, Wataru and the entire ensemble.
Miwa is such a wonderful singer and I loved the arrangements.
You are all brilliant and what a labour of love to have translated the entire work into Japanese.
I would say it is of cultural significance."
Dagmar Krause(Slapp Happy, Henry Cow, Half the Sky)
videos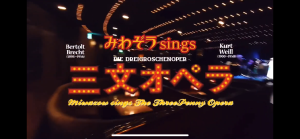 Trailer of "Miwazow sings Die Dreigroschenoper"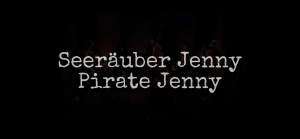 "Seerauber Jenny (Pirate Jenny)" - Miwazow sings Die Dreigroschenoper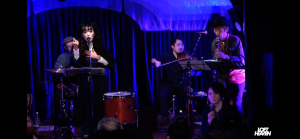 "Prolog" Die sieben Todsunden in Japanese - Miwazow sings Brecht]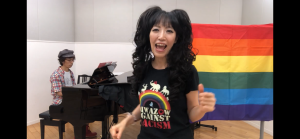 "Ale brider" Miwazow sings Yiddish songs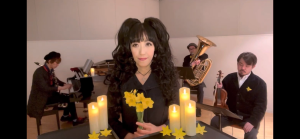 "Zog nit keyn mol" - Miwazow with Jinta-la-Mvta
Koto player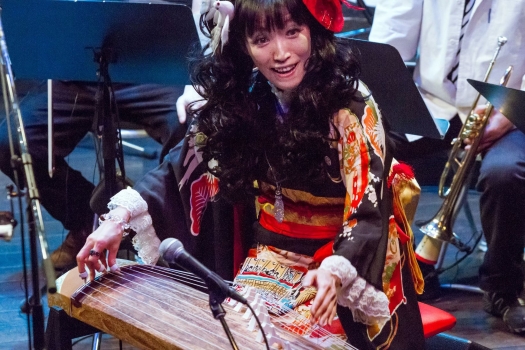 Miwazow started playing KOTO when she was yet 3 years old and became a master of KOTO at 11.
She preferes to play Klezmer and Prog-rock (Lindsay Cooper, ex Henry Cow),etc..
videos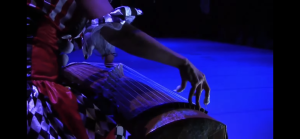 "Yismechu" Jinta-la-Mvta with ALK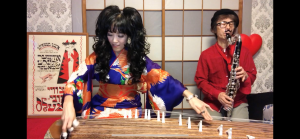 "Araber Tants" MIWATARU QUARANTINED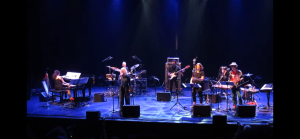 HALF THE SKY plays the music of Lindsay Cooper
(Dagmar Krause, Chris Cutler, Yumi Hara, Wataru Okuma and Miwazow etc.)