Miwazow
Percussionist ? Singer ? Koto player ? Who's she ?
Miwazow Kogure : Japanese "Chin-Dong" drummer, vocalist and Japanese KOTO player in Tokyo, Japan
Referred to as the "Ching-Dong Diva," she has played Japanese percussion "Ching-Dong" and has sung with her radical folk-rock band, "Jinta-la-mvta", blending jazz, rock, Klezmer and Balkan folk music, etc.
<CONTACT> CICALA-MVTA office
cicala-mvta★mbj.nifty.com (change ★ to @, please)
Biography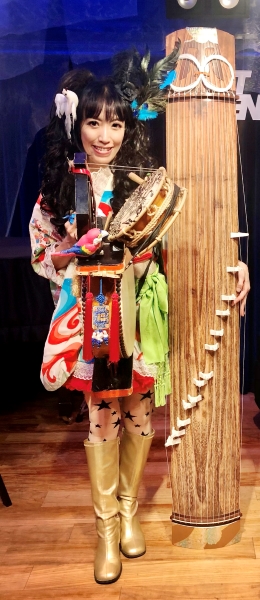 Miwazow / Miwa Kogure (Musician)
Born in Chiba, Japan.
Miwazow is a Japanese traditional marching Ching-Dong drummer, singer, and player of KOTO, Japanese harp.
She started playing koto at the age of 3, and assumed the name of master KOTO player at the age of 11.
Graduated from Meiji University, Faculty of Arts, majoring in theater studies. Her thesis was on Yiddish theater.
In the summer of 1997, she made her debut in Hong Kong as a Ching-Dong drummer for Soul Flower Mononoke Summit.
Since then, based in CICALA-MVTA and Jinta-la-Mvta, she has been active both in Japan and abroad as a standard-bearer of the brilliant and hybrid new generation of Ching-Dong drummers. Her borderless and festive musicality that transcends genres and national borders, and her danceable hybrid charm of playing in kimono arranged costumes, continue to make a huge impact, especially overseas.
In 2015, they were invited to perform at Kulturfest NYC, a Jewish music festival celebrating the 100th anniversary of the founding of Folksbiene, the oldest Yiddish theater in existence in New York City, as representatives of Asia with Wataru Okuma, making their debut on the world klezmer scene.
Although she is not Jewish, she has been highly acclaimed as an Eastern European Jewish klezmer music performer and singer, and has since been invited to perform at festivals all over the world.
She started her career as a singer in 2012 after the Great East Japan Earthquake.
Starting with Brecht's songs and Yiddish songs, she has become a rare singer who sings various songs and folk songs in multiple languages.
In 2021, she sang almost the entire "Three-Penny Opera" by herself, playing five different roles for both men and women, an unprecedented feat that attracted a great deal of attention from researchers in musicology and German literature.
As a KOTO player, she restarted her career in 2015 after a long blank period by performing avant-garde rock music in the unit "Half the sky" with Yumi Hara, Chris Cutler, Dagmar Krause, and others. For the first time in the world, she combines KOTO, klezmer, and Yiddish songs, enhancing the appeal of Jewish music and KOTO at the same time.
In the summer of 2022, she played a semi-leading role in "TIME the 4th SEASON featuring MIWAZOW", a musical led by Socalled in Hamburg, Germany, using Ching-Dong drums, KOTO, and singing.
She also appeared in Min Tanaka's "Dokumai (Dance alone)" (2006), Kazuyoshi Kushida's "Aerial Cabaret" (2011), NHK"Totto TV" (2016), NHK "no art, no life" (2021), Brett Bailey's "CONSTELLATIONS"(2022), etc.

Ching-Dong drummer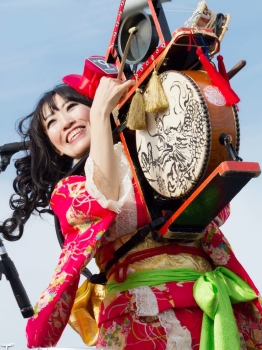 Ching-Dong is Japanese percussion and the old fashioned modern street music
which combined old traditional street music with western brass band.
Miwazow plays a variety of music by Ching-Dong drums,
Rock, Klezmer, Balkan, Prog-rock, Funk, Punk, etc..
mainly in the bands, "CICALA-MVTA" and "JINTA-LA-MVTA".
about Ching-Dong in Wikipedia (in English)
videos (click the photos)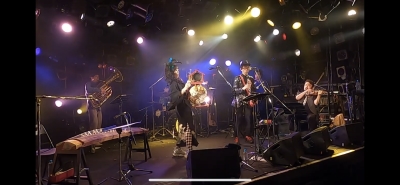 "Sherele ~ Artigiana" Jinta-la-Mvta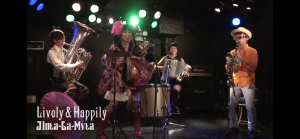 "Lively & Happily / Lebedik un Freylekh" Jinta-la-Mvta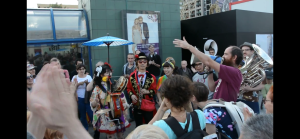 Chig-Dong marching in Warszawa
SPACER Z ZESPOŁEM JINTA-LA-MVTA (XV Festiwal Warszawa Singera, 31.08.2018)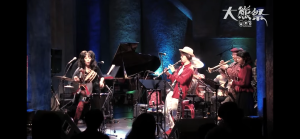 "El derecho de vivir en paz" Jinta-la-Mvta special band at Wataru Okuma festival
Singer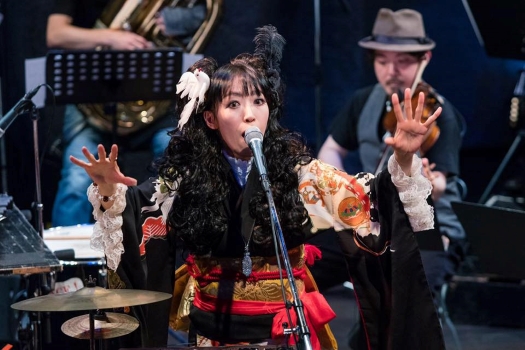 Singer:
Miwazow started singing after Great East Japan earthquake in 2012
to encourage all the people in the world and make this world peaceful.
She sings mainly Brecht's songs, Kurt Weill, Yiddish songs (the one and only Japanese Yiddish singer), various
protest songs etc. in multipul languages.
Miwazow has sung all the songs of "Die Dreigroschenoper
(The Threepenny Opera)" in Japanese playing a quituple role,
Macheath, Polly, Jenny, Peachum and Frau Peachum.
"A most wonderful performance of Die Dreigroschen Oper from Miwa, Wataru and the entire ensemble.
Miwa is such a wonderful singer and I loved the arrangements.
You are all brilliant and what a labour of love to have translated the entire work into Japanese.
I would say it is of cultural significance."
Dagmar Krause(Slapp Happy, Henry Cow, Half the Sky)
videos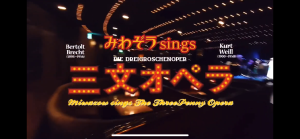 Trailer of "Miwazow sings Die Dreigroschenoper"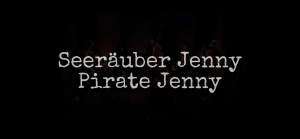 "Seerauber Jenny (Pirate Jenny)" - Miwazow sings Die Dreigroschenoper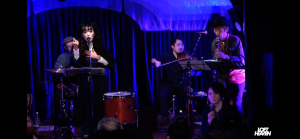 "Prolog" Die sieben Todsunden in Japanese - Miwazow sings Brecht]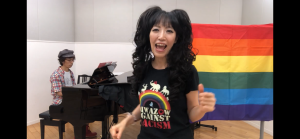 "Ale brider" Miwazow sings Yiddish songs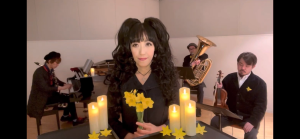 "Zog nit keyn mol" - Miwazow with Jinta-la-Mvta
Koto player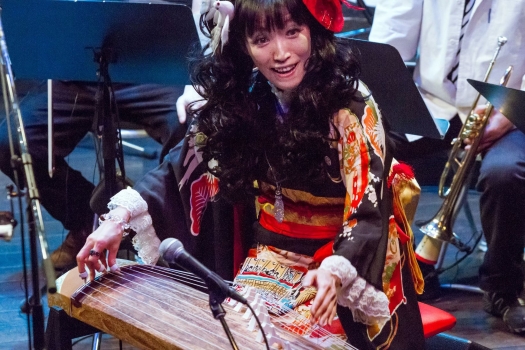 Miwazow started playing KOTO when she was yet 3 years old and became a master of KOTO at 11.
She preferes to play Klezmer and Prog-rock (Lindsay Cooper, ex Henry Cow),etc..
videos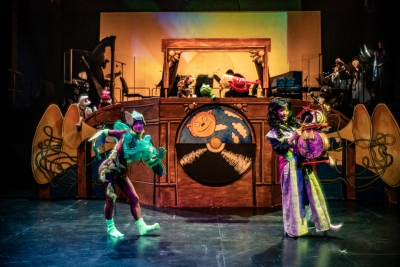 Time the 4th SEASON featuring MIWAZOW by Socalled/Joshua Dolgin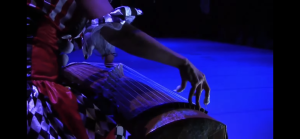 "Yismechu" Jinta-la-Mvta with ALK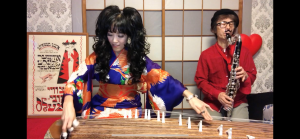 "Araber Tants" MIWATARU QUARANTINED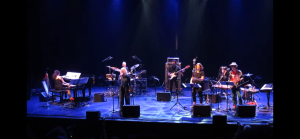 HALF THE SKY plays the music of Lindsay Cooper
(Dagmar Krause, Chris Cutler, Yumi Hara, Wataru Okuma and Miwazow etc.)