Jinta-la-Mvta
Tokyo, Japan
Japanese Klezmer with full of euphoria and sorrow

"Not only unique with its Japanese-accented Yiddish, entertaining with its audacious punk-infused presentation, colorful costumes and infectious enthusiasm, and skilled at a level only surpassed by the very top tier of klezmer musicians."
Seth Rogovoy

What is Jinta-la-Mvta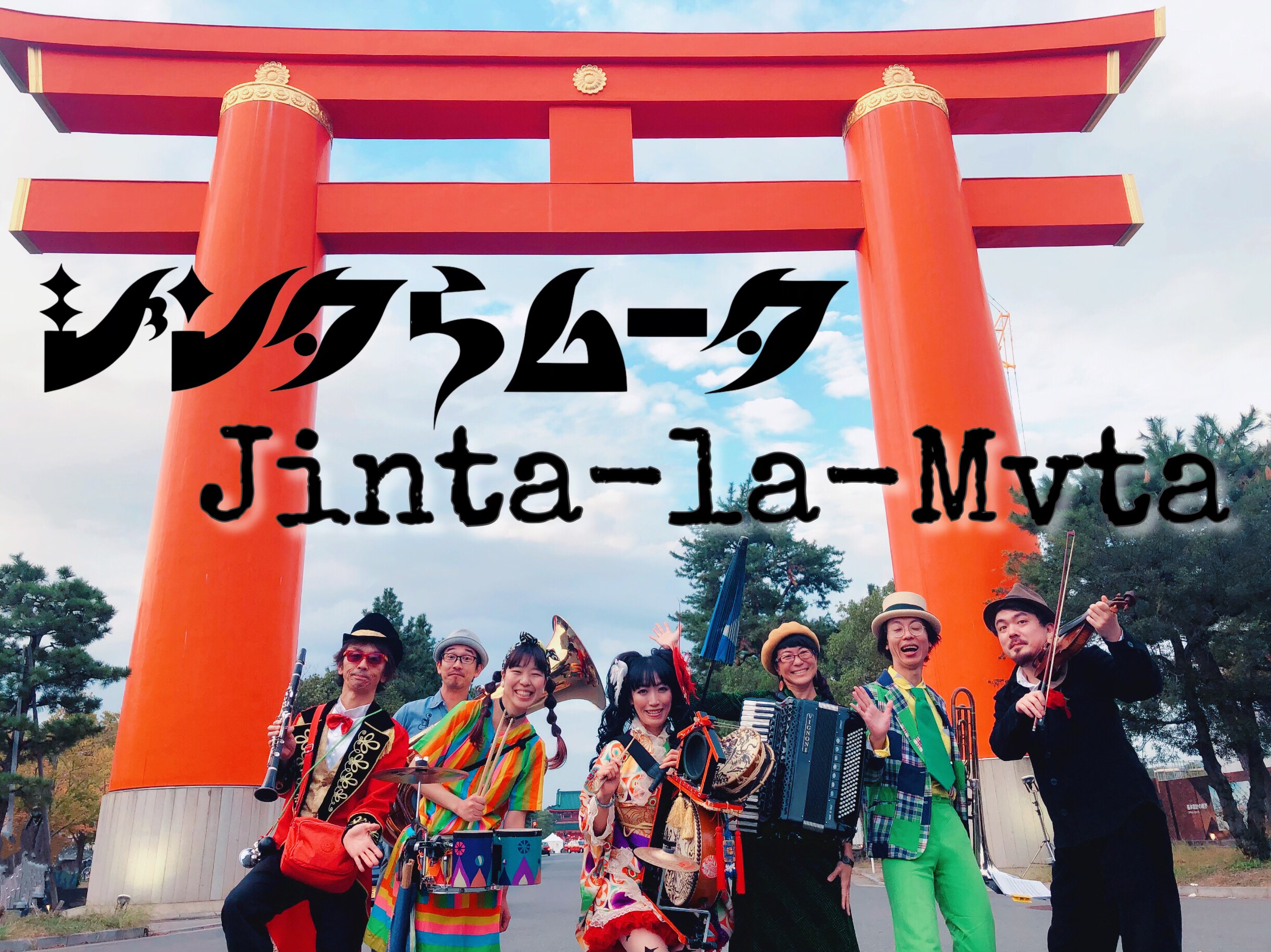 Jinta-la-Mvta [jintalamoota] is a Tokyo-based band founded in 2004 and led by Wataru Ohkuma (clarinet) & Miwazow Kogure (chin-dong drums, vocal and Koto, Japanese harp).
The band is organized by clarinet, Japanese chin-dong drums, vocal, accordion, tuba, drums, violin, trumpet, trombone, Koto (Japanese harp) and etc..
Ohkuma is one of the most unique clarinet player in Japan and the bandleader of the groundbreaking Japanese experimental band Cicala Mvta, which has been hailed as "the epicenter of the Tokyo underground scene" and "uniquely Japanese world music."
With the Japanese street music,"Chin-Dong",and "Jinta" as its backbone, the band omnivorously cooks up street musics from around the world, from Klezmer to Balkan music and original tunes.
As one of the few klezmer experts in Japan, Jinta-la-Mvta has been invited to several klezmer festivals in the United States, Germany, Canada, Poland and Brazil, where the band has received enthusiastic receptions and great responses.
Festivals (major activities)
2004 Asian Music Festival (Taiwan)
2005 Meinong Music Festival (Taiwan)
2007 The Mayor's Thames Festival (UK)
2015 Kulturfest NYC ;the centenial celebration of National Yiddish Theatre - Folksbiene (USA)
2016 Jewish Film Festival Berlin (Germany), KlezKanada (Canada), Ashkenaz Festival (Canada)
2017 Honk! Fest West (USA)
2018 Festiwal Warszawa Singera (Poland)
2019 KLEZTIVAL(Brazil)
2020-2022
2023...!!!
Miwazow (Miwazow Kogure) - Yiddish singer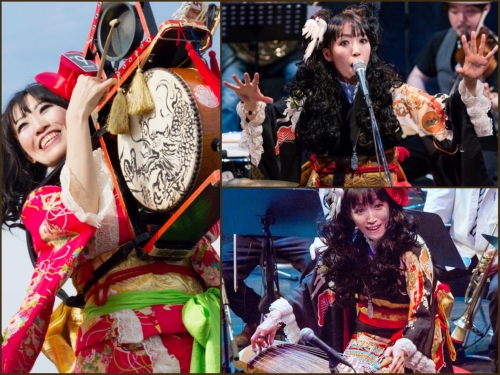 Miwazow is a percussionist, singer and Koto (Japanese harp) player.
Since 1997, she has played Chin-Dong, a Japanese unique traditional marching drums, in a dynamic and danceable rock style, regardless of genre, and has taken an active part as one of the top percussionists.
In 2012 she started her activities also as a singer,and her singing and performance has been highly acclaimed since the beginning, and many fans, well-known people and celebrities have sent tribute to every performance.
She sings a wide variety of songs in various languages, including Yiddish songs, Brecht's songs (Kurt Weill, Hanns Eisler, Paul Dessau), Piazzola, etc..
She began to learn Koto, Japanese harp, since when she was 3 years old and became a master of Koto at the age of 11.
She plays Klezmer music on the Koto and expresses the splendor of Jewish culture by collaboration with Japanese culture.
Her singing in Yiddish, which is very rare for Japanese, has been highly praised.
Her activity has attracted a great deal of attention not only as a chindon drum player, but also as a vocalist and a performer.
Her emotional performance with her love and pray for peace has deeply impressed and encouraged many people.
Git a kuk, zayt azoy gut !
"Volt ikh gehat koyekh / Sholem lid" - Miwazow sings Yiddish Peace song on YouTube

CONTACT
CICALA-MVTA office: cicala-mvta@mbj.nifty.com