Miwazow Festival 2019 vol.8
10th June (mon) at Star Pine's Cafe,Kichijouji,Tokyo
Skim the cream of beautiful dramas in the world ! The curtain of Miwazow theater is up!
Klezmer ! Yiddish songs ! Fiddler on the roof ! Three Penny Opera ! Ethiopian Jazz ! Chin-Dong ! Koto ! Piazzolla ! Broadway !
Enjoy all of them at once!!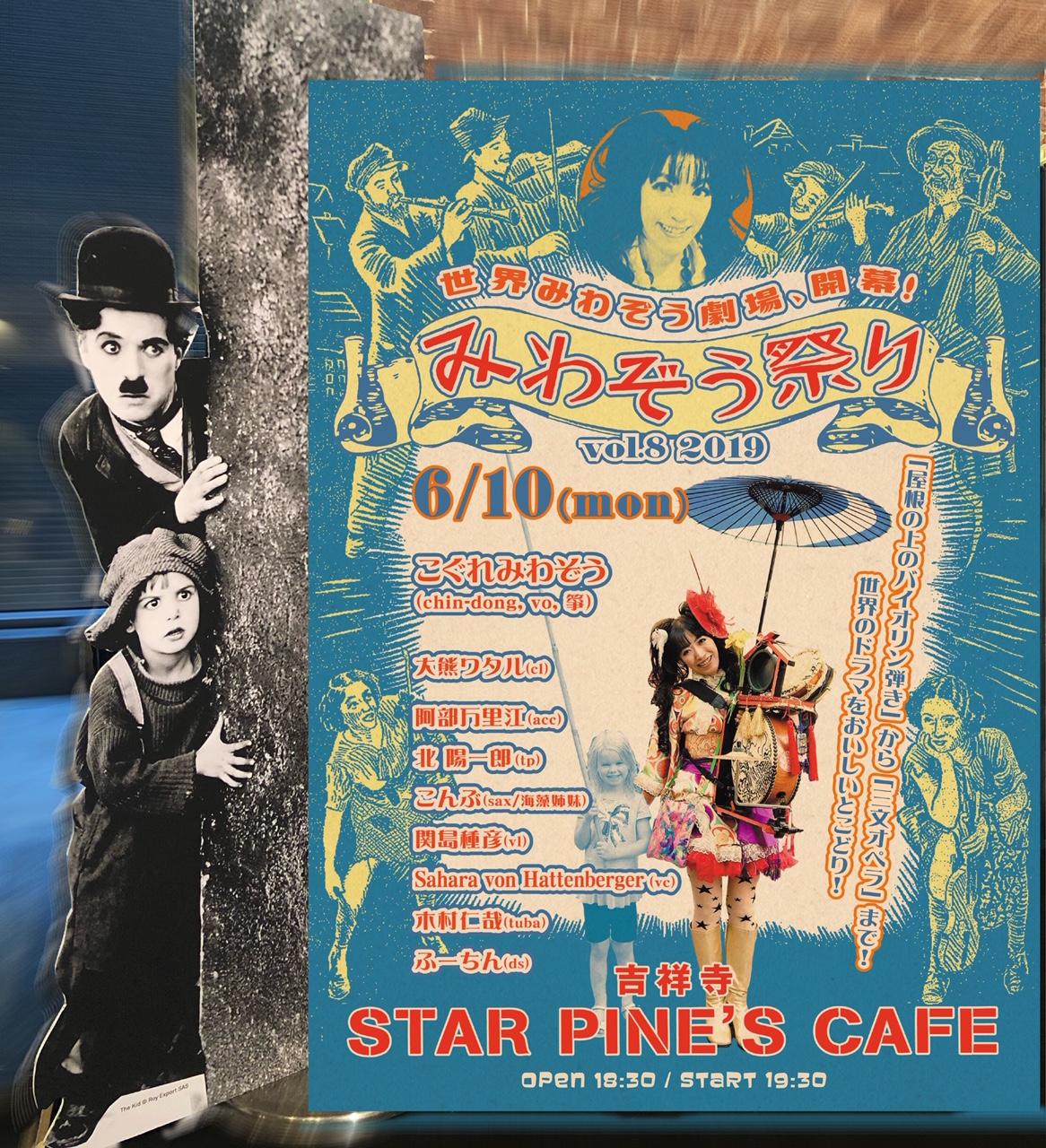 Miwazow Festival, which has been held every year since 2012, is the eighth holding this year.
Kenji Sakamura, our great designer,with his wonderful sense and outstanding skill, would make this wonderful flyer filled with the attractive atmosphere of the old Yiddish movie.
The successive flyers of every year were designed by him with the great works ofthe wonderful creators, based on the direction by Miwazow.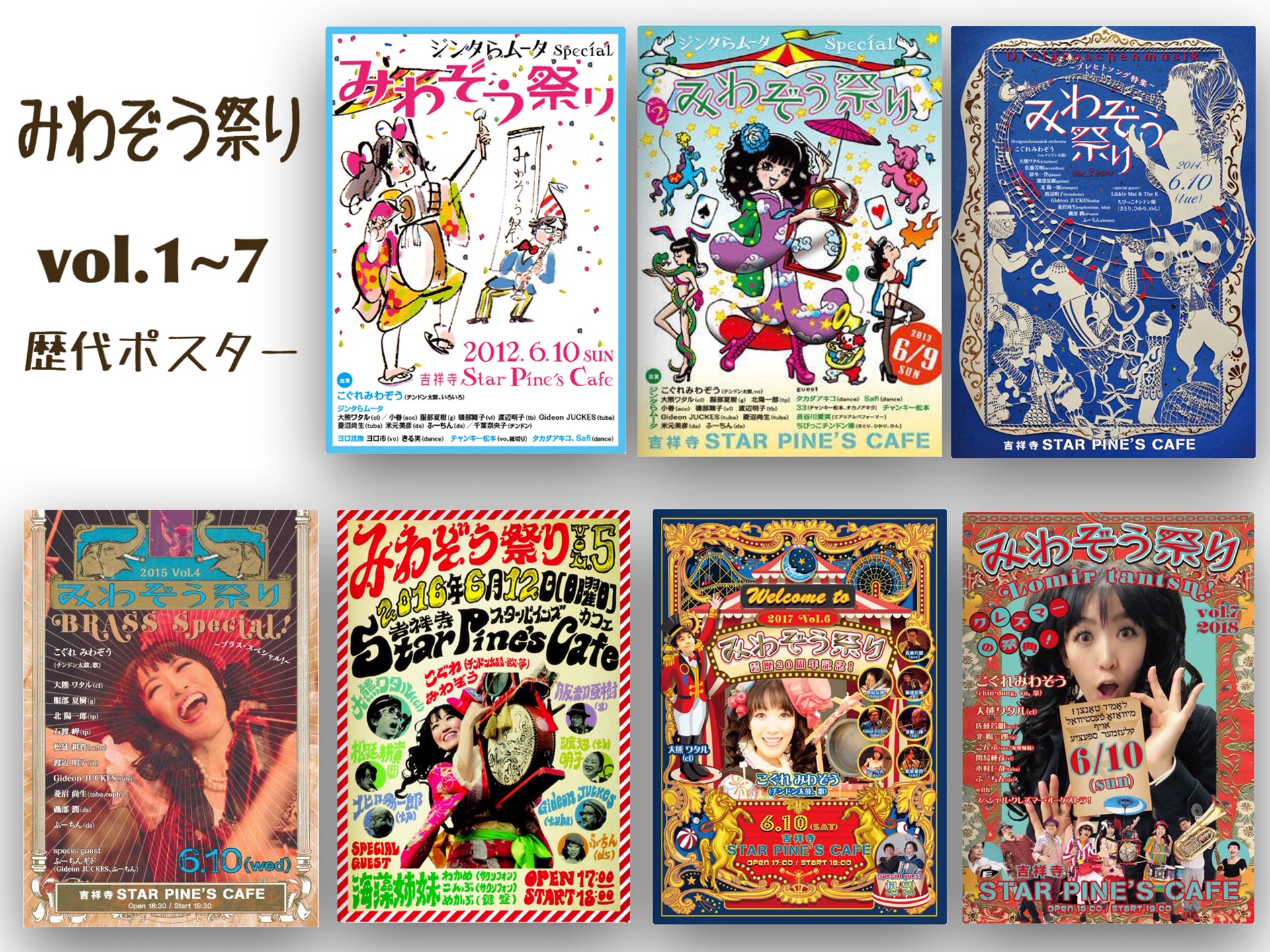 click !
1st:illustration by Inunko / 2nd:illustration by Ruiko Kozuka / 3rd:paper cutting art by Nanael / 4th:photograph by Gadiwo / 5th:photograph by Akinori Gomi, artwork by Burehito and Kijima Zangetsu / 6th:photograph by Hiromichi Ugaya / 7th:photograph by Wataru Ohkuma
What is "Miwazow Festival" ?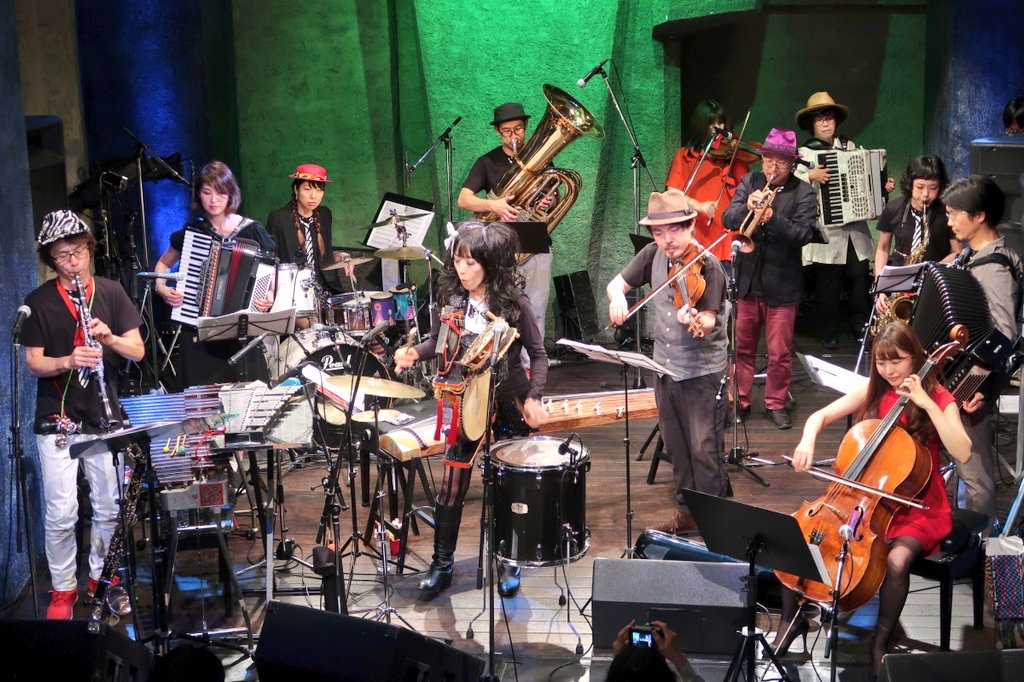 On March 11, 2011, Japan was hit by the unprecedented big earthquake.
Even now the radioactive contamination by the nuclear accident has spread not only in Japan but also all over the world.
There are many people in the world who are threatened with the danger of life and deprived of their rights to live in peace.
A lot of people feel much distress at the sadness in the world, stand up, and do their best in different ways to make this world peaceful and better.
In such circumstances, I decided to start this festival in 2012 after thinking about what I should do as a musician for peace on earth.
A festival to heal and revitalize your body and mind that got tired by social difficulties.
Since then, with the support of great musicians, many nice staff and many beautiful customers, Miwazow Festival could have been held successfully every year.
And in fact, it's my birthday.
But this is not a festival for my birthday, a festival to celebrate all the births on earth and lives of all the people not only at the venue and also in the world.
It is not me whom is celebrated on this day, but all of YOU who are born in this world and who could live together now in the same age.
Come and join us, and let me say "L'khaym(Cheers) to Life " !
26th May 2019
with full of love and thanks,
Miwazow
9 keywords
Miwazow Festival has featured various themes each year.
This year, we prepare a collection of our programs.
Enjoy this musically and culturally rare performance which you can experience only at this concert in Tokyo.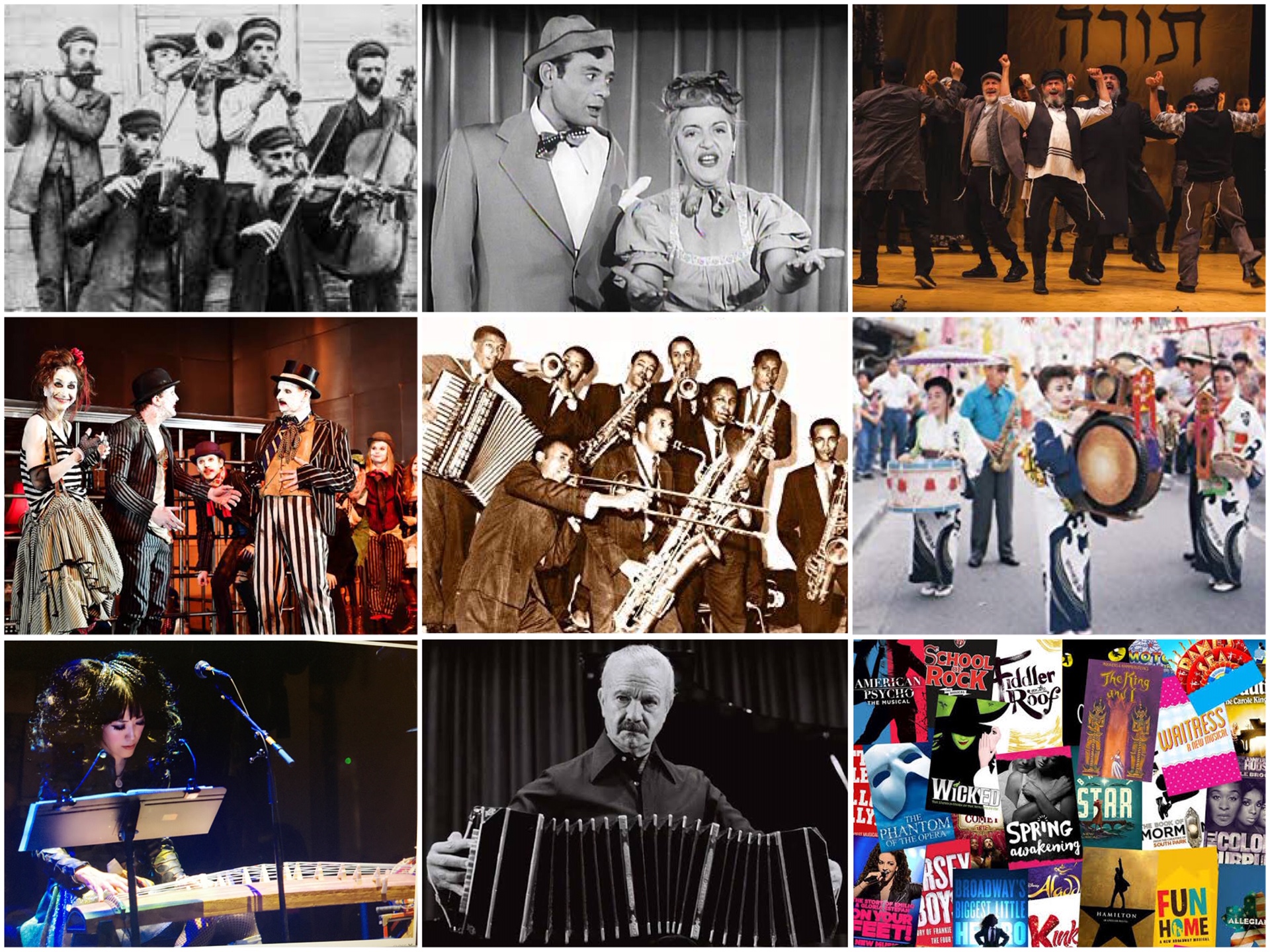 【You can watch the movies related to the keywords】
(upper/L-R)
Klezmer
 Yiddish songs
  Fiddler on the roof/Fiddler afn dakh(in Yiddish)
(middle/L-R)
Derigroschenoper - Bertholt Brecht
 Ethiopia Jazz
  Chin-Dong(japanese traditional marching drums
(lower/L-R)
Koto (Japanese harp)
 Astor Piazzolla
  Broadway *secret until the concert as a surprise
Musicians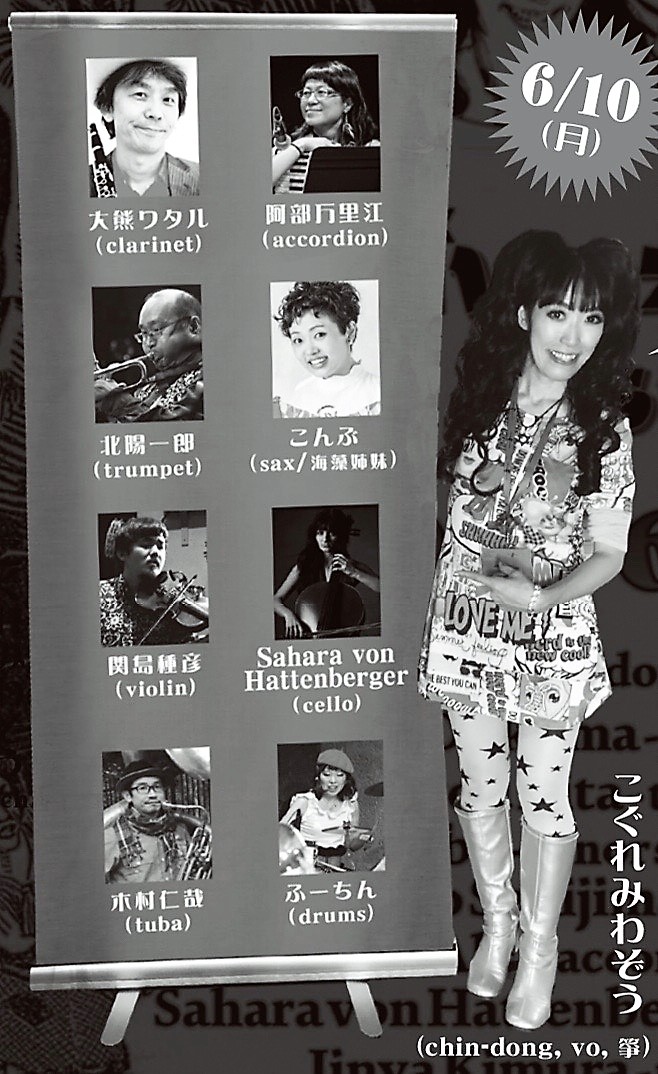 Miwazow: Chin-Dong drums, vocal, Koto
Wataru Ohkuma: clarinet,bass clarinet, glockenspiel,xylophone, etc./band master
Marie Abe: accordion (associate professor of ethnomusicology in Boston)
Youichirou Kita: trumpet
Tomoyuki Mihara: trombone
Kombu: tenor sax
Tanehiko Sekijima: violin
Sahara von Hattenberger:cello
Jinya Kimura: tuba
Fu-ching: drums
 
Baraki Halpern: guest vocal
Show Timings
10 June MONDAY 2019
open 6:30pm / start 7:30pm

Duration: 2 hrs, 15 mins with 1 intermission
Venue
Star Pine's Cafe, Kichijouji, Tokyo, Japan
B1 1-20-16 Kichujouji-Honcho, Musashino-city, Tokyo, 184-0004
TEL:0422-23-2251
Tickets
ADVANCE 3500yen / DOOR 4000yen (with 1 drink order) *Star Pine's Cafe, or e+("e-plus")
ADV pair tickets 6000yen / DOOR pair tickets 7000yen (with 1 drink order for each) *Star Pine's Cafe
(visitors aged of 7 or under: admission free / visitors aged of 15 or under: half the adult's fee)


(you can buy advance ticket above)

reservation on web
(CLICK here and you can reserve all kinds of tickets)
CONTACT
Star Pine's Cafe : 0422-23-2251
B1 1-20-16 Kichujouji-Honcho, Musashino-city, Tokyo, 184-0004